Another Night ~featuring Mike Kohlgraf
album:
Collaborations
genre:
»»--(¯`v´¯)=>>
streams:
34
creation date:
2021-01-26
"Another Night"  I've been feeling like such a fool. Can't find the right things to say.   Help me to find the right tool. To repair what I did-- or did not...
1/2021 Music + production by Mike Kohlgraf.  Lyrics + vocals by Carol Sue Kirkpatick.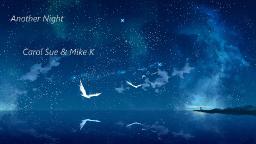 Tags