Amazing ~featuring Mike Kohlgraf
album:
Collaborations
genre:
»»--(¯`v´¯)=>>
streams:
70
creation date:
2021-02-02
"Amazing" Butterfly, fly away I can't fly as high as you.  I just like to watch you fly.   Spread your wings into the sky.The colors are yours, I'd never...
 2021 Music + production by Mike Kohlgraf.  Lyrics + vocals by Carol Sue Kirkpatrick.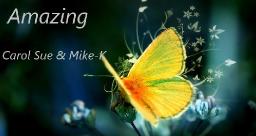 Tags