Out Of This World ~ featuring Mike Kohlgraf
album:
Collaborations
genre:
»»--(¯`v´¯)=>>
streams:
63
creation date:
2021-02-07
"OUT OF THIS WORLD"  Comes to my mind some old memories.  How as a child my Mother would play with me.    And she taught me  6 X 7 is 42.     Always be...
2021 Music + production by Mike Kohlgraf. Lyrics + vocals by Carol Sue Kirkpatrick. This goes up and out to my mother's in heaven.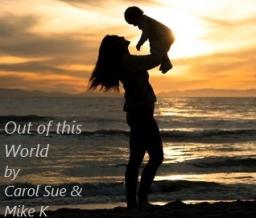 Tags