AN EASY TECHNIQUE TO EARN PASSIVE INCOME WITH YOUR MUSIC
2023-05-09
By: Jacobthewilliam
Posted in: Financial Advice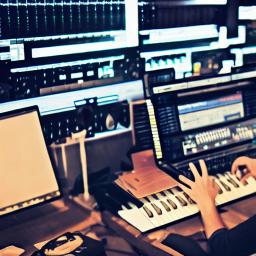 Since every artists wants to make money from their music, I thought I'd share a neat technique with y'all that I found on a producer forum. It works no matter who you are or what stage of your career you are at.
Check this one out:


Before you get started you need to do a few things: 
1. Sign up with a PRO like ascap or bmi. 
2. Sign up with an online music distributor like Distrokid or CD baby. 
3. sign up for an account at a site like audiam or adrev. 


Once that is done all you have to do is: 
1. Make tons of beats/music and arrange it as an album or several albums. 
2. Publish it through your distributor. 
3. Create a youtube channel/ a dedicated website for your release and promote it as "free youtube backing music" or "beats for video" etc.  or anything of that nature.
4. Collect royalties from ad plays on Youtube!
Thats it! 
How it works [and makes you money]: A lot of people need [free] background music for their YouTube videos and need a source to get it from. Same thing with rappers. They want to make music [with free beats] and eventually upload it to YouTube. Well, once your music is published, registered and available through the online retailers they will have bar codes and ISRC codes assigned to them. Those codes are used to track your music. So, in addition to the royalties from sales you get from your PRO and the online retailers, when someone downloads your free beats / music and uploads the music to YouTube, ads will be placed on their videos because it "matches third party content" [your content] and these companies [adrev & audiam] will collect on your behalf and pay you money from the ads placed on their  videos as well. You may also be eligible to collect from other places as well (maybe someone else can chime in on this) but I'm not too sure. 
As you can see, this is a very simple method that does require an initial investment of your time but in the long run you should make a decent return on that investment and build your name up in the process.
Plus: [the most beautiful part] your music gets out there and you still own it! Just make sure you make this clear to the "free downloaders" of your music.
Lets be real. The chances of you becoming a millionaire overnight from this isn't very likely but on the road to riches all revenue streams add up. Please believe.
And there you have it.
Now go get it! 
Tags