Meet Johanna SAINT-PIERRE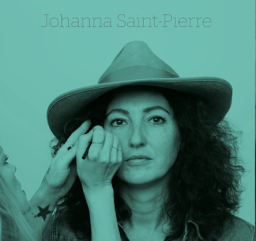 Johanna SAINT-PIERRE is a one-of-a-kind artist, listening to her soul, in harmony with the World, skillfully juggling with all her roles: author, song writer, singer, pianist and independent producer.
She has to her credit, three electro-pop albums, two pop soul EP and signed electro remixes labels from Paris and New-York. She collaborated with prestigious DJs and producers.
She is part of the Gospel Choir of Paris with which she accompanied, among others, Pharrell Williams, on French television sets for the song Happy.
For a long time, the stage has been her element. Indeed, Johanna started very young with the rock group: LAPLACE. Together, they played the first part for ROLLING STONES concert at Olympia in Paris, as well as SIMPLE MINDS for several dates during a French tour.
In 2018, she played solo piano voice, during her first tour in North Carolina, USA. This will be followed by her first concert in New York in July 2019.
I would add that Johanna SAINT-PIERRE elegantly enchants us with her pieces of life captured here and there. She handles her lyrics and tunes with elegance and modernity while sprinkling humor, lightness, seriousness and love. Flows of emotions inspired by her many encounters, her sharing of voices and her artistic favorites.
TYNDIAYE : Dear Johanna SAINT-PIERRE, hello, I am so happy to welcome you on my Blog Coup de Cœur de TYNDIAYE. A dream comes true !
My first question to you is an inescapable one for all my guests…
As we are navigating through the month of May, a very special month as we are approaching the end of our third lockdown, what does your voice tell us about you ?
Johanna SAINT-PIERRE : Hello TYNDIAYE, I have been waiting impatiently like everyone else, for the restrictions to be lifted so that we can regain our freedom. As an artist/ musician, I have been particularly impacted because I have not been able to perform in front of an audience for a very long time. I still had the chance however to do a concert in a performance hall of 300 people (150 masked) at the end of October. I have also recorded in February a superb live web which will be released shortly for the Afrodiziac show ...
I have also missed the gospel choir and I am impatiently waiting for the rehearsals to resume in person to also meet again my fellow singers and musicians.
T : Your voice is essential, how do you take care of her ? What are your secrets ? Would you say that your voice (spoken and sung) has evolved since your beginnings and if so, in which way ?
Johanna SAINT-PIERRE : Yes, TYNDIAYE, my voice has evolved enormously thanks to the musical and technical work that I have been doing since I was little. I have been lucky enough to start at the age of 7 in a primary musical class. We had a very good choir where there were soprano and alto sections, which is already technically complicated. I did piano and music theory at the same time. After my baccalaureate, I decided to become a professional musician and I started private singing lessons quite quickly with vocal coaches. Since then, I have never stopped singing. In fact the voice is like a dancer, you should never stop if it is your passion. And it is true that if you have the opportunity to surround yourself with a good coach, this will allow you not to damage your voice and on the contrary to make it flourish.
T : From Rock to Electro-pop, then soul-pop, numerous and diversified collaborations, 2 signed EP with a renowned American, chorist at the Gospel Choir of Paris, your career path is unconventional and incredible, could you tell us more about it in a few words ?
Johanna SAINT-PIERRE : I had the chance, as a teenager, to know very quickly in that I was going to devote my life to music as a pianist, singer, author, song writer and producer. I love pop in all its forms, jazz and soul. After my baccalaureate, I studied in a jazz school in Paris, at the CIM (Musical Information Center), while doing musicology at the Sorbonne. To pay for my tuitions, I was hired at the Studio des Variétés, under the direction of Tony Bonfils (bassist and conductor of Charles Aznavour), as a keyboard, to accompany singers on stage. I really learned how to perform there. We played in small Parisian venues like the Sentier des Halles. I also set up a group of girls called "Chéri Bibi". We played in the trendy bars of the capital here and there, like the Casbah for example! We even got noticed by Sony Éditions. It didn't work out at the end... I was 19 !
T : And what about the group LAPLACE, an amazing story !
Johanna SAINT-PIERRE : Yes indeed ! I have signed with a record company with the group of Rock LAPLACE as keyboard and back-up vocalist.
In this group, very young, I quickly learned the trade in all its forms. We toured and performed at CIGALE. Really funny !
The DAFT PUNK played records in the first part, incognito and without their masks. Our godfather was Jean-Louis AUBERT ! Yes unbelievable ! What a great energy around us ! We opened for the ROLLING STONES at OLYMPIA, as well as a tour with the SIMPLE MINDS. We were sponsored by PEPSI! We recorded an album at studio MIRAVAL, (a legendary French studio where PINK FLOYD also recorded). We had a great American producer KIRK YANO. I was incredibly lucky to start such a young career which was already internationally oriented. I was spoiled. We had all the support we needed to flourish as artists and musicians.
T : When did you aspire for a solo career ?
Johanna SAINT-PIERRE : In 2000, I wanted to go solo as an independent artist. I was introduced to Marc Ricci, DJ at the Hotel Costes in Paris and producer of their compilations. I was still working with my Home Studio at home. He produced my first electro maxi pop "Electronic Superstar". This allowed me to sign with a publishing company called Passport Songs Music. Which is important, because I am also a songwriter on this first maxi. I had been writing songs for a long time. I also played live in parallel, in a jazz group "Breakfirst Quartet", where I was at this time pianist and solo singer. I stayed in this group for 3 years.
T : And what about the United States of America ?
Johanna SAINT-PIERRE : I have family in the USA and while on vacation, I brought this first "Electronic Superstar" vinyl that I had done. I distributed it in clubs in the evening to DJs. Suddenly, I got noticed by American producers. The French side is very popular there. And I signed with electronic labels between Paris and New York. In particular with the famous underground label of House, IBADAN, for the Maxi L'âme Éternelle with Jephté GUILLAUME (bassist of DESTINY CHILD).
Then, with the help of Parisian sound engineers / producers, I self-produced 3 electro and soul pop solo albums. This time around, I just distributed them digitally without doing any promotion. In parallel in 2011, I joined the gospel choir of Paris and I have lived incredible adventures with this group since then. We even accompanied Pharrell Williams on TV sets.
T : How would you define yourself as an artist ?
Johanna SAINT-PIERRE : I think I am a versatile, hyper creative and hyper active artist ! Energy brings energy. If you stop, everything collapses like a house of cards.
T : Tell us about your last EP, produced by BACCHUS ? What unites you with this country ?
Johanna SAINT-PIERRE : In 2017, in a club in New York, I gave a demo CD album, also released digitally, "Walking Dolls" to one of the greatest producers of American jazz. Brian Bacchus had just produced 2 albums of Gregory Porter and had literally brought to fame this artist with the general public.
He also discovered and signed Norah Jones on Blue Note. He's a talent scout.
Regardless of age or nationality ! He produced my 2 EPs in New York with the help of a small American label Lilihouse Music. In the studios, I met some amazing musicians and sound engineers. They've all had won Grammy Awards. I had stars in my eyes. Sherrod Barnes was Whitney Huston's guitarist. He toured with her. Louis Cato is a super talented multi instrumentalist who has toured with Marcus Miller and the Snarky Puppies. He also played with Jon Batiste.
T : The USA, and more precisely New-York, a dream for you ?
Yes, the true American dream. I love American and especially Afro- American music. I love groove and jazz! I also brought my Parisian team including Rémi Amblard, Chris Rime, Tony Haley who were greatly appreciated.
Both EPs are sung in English and French and were selected in the category of best EP in 2020 and 2021 at the Victoires de la musique… (French Music Awards ceremony).
I am currently promoting the 2nd EP - Sensuous Whisper- and international radios are appreciating and bringing it on air. Today we can say that I am a French artist who is confirmed worldwide. There are many internet radios which are developing and giving the possibility of being played more easily and internationally.
In fact, as an independent artist signed on small labels, the general public and music lovers discover me thanks to these web radios, social networks and the videos I often post. I am proud of myself, because it is exactly the style of music that I always wanted to play, which makes me dream and which corresponds to my inner-self on this last EP. The French record companies would not have wanted to make this kind of music with me, nor to collaborate with American musicians and producers. Both EPs are pop soul funk in English and French. The second EP is played live in addition with acoustic instruments. Today pop is often electro.
T : What comes first to you, the lyrics or the melody ?
Johanna SAINT-PIERRE : Regarding the creation of the songs, I easily find the melodies but I prefer to build them on harmonies. I work on the lyrics afterwards.
T : What are the themes that are close to your heart or at least that you like to explore in your songs ? And why ?
Johanna SAINT-PIERRE : I love to talk about how women feel. Talk about freedom and love.
T : We know that the life of an artist requires for some, perseverance, pugnacity... With more than 20 years of career, how do you manage the "silent" phases, in withdrawal?
Johanna SAINT-PIERRE : In fact, I think the most interesting thing in life is to draw your course and walk your path. Each path is unique like finding your own voice, isn't it TYNDIAYE ! Ultimately, whatever the outcome. The path of life is extremely rich.
If we have a goal or a quest like mine which is living the life of an artist-musician, you should not expect success and money ! You will quickly be very disappointed.
Rather, solutions must be found to get there. Take risks, do not let opportunities pass and try your luck. It's amazing because if you look at the life of professional musicians, their journey is extremely rich.
Seeking fame in fact is not a goal, otherwise you will quickly despair, it does not make sense. The professional musician is always recognized in his/her environment, around hi/her. His/her family, colleagues, relatives are the first circle and the first support. It's still a gift to be a musician, it's already absolutely brilliant to perform on stage and release records. And yes, it is a passion that costs quite some money. I would rather pay a musician who accompanies me, than buy myself a new handbag or pay for a trip. Ultimately it is more ecological.
The only moments I have withdrawn or silent are those to rest and take a well-deserved family vacation. The musician is like an athlete. He/she trains constantly or is active.
T : Which young woman are you 2021 ?
Johanna SAINT-PIERRE : An active, enterprising and focused woman. I am a mother of two young girls who are in middle school and high school, so I also have great daily responsibilities. I have to feel good about myself, to try to take charge of my life and the one of my daughters. I really like to party too, at home, with friends or going out.
T : What will be your next step ?
Johanna SAINT-PIERRE : I'm working on a new album with a new great Franco-British producer : Nicolas Bulkowstein ! It's going really well.
I was supposed to do my second little tour in the USA, piano voice, but in full covid everything was canceled. I hope to be able to play and schedule this tour again someday. We will still have to wait for travelling to the USA.
T : What do you tell the little girl / little Johanna that you were?
Johanna SAINT-PIERRE : Well done little girl, because you have been able to follow your instinct !
T : One more thing, what are your 3 inspiring words of the moment that you would like to share with our readers ?
Johanna SAINT-PIERRE : HARMONY - SOARING - FREEDOM.
T : Goodbye Johanna, thank you so much for your precious time, looking forward to hearing your next songs...
Johanna SAINT-PIERRE : Goodbye TYNDIAYE, thank you very much for inviting me and
letting me speak freely.
Tags