2013-08-29
By: selftort
Posted in: Members' News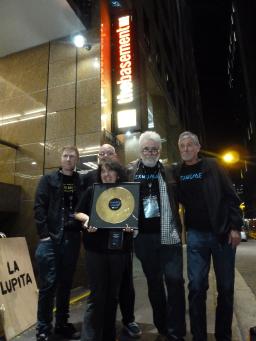 Our Australian National Broadcaster the ABC has, on its youth network, run for many years a competition called "unearthed" seeking young unheard bands. 
The Sydney afternoon presenter on 702ABC (who himself played in well-known Sydney bands in the 80s) decided to run a similar competition for more mature musos which he called "Exhumed".
I decided to form a band to enter the competition and we were shortlisted for the Sydney Final which was held at the Basement, one of Sydney's premier musical venues. And lo and behold we won.
It was a fabulous night and now we have to wait to see whether we survive the cull from the 42 regional finalists to the final 6. 
In the meantime though, we are part of a People's Choice contest with other regional winners. I am attaching a link where, if you wish, you can go to vote. Needless to say we are "Self Tort"
http://www.abc.net.au/tv/exhumed/bands/
Tags