Happy Holidays from Scarecrowz

2022-12-24
By: Scarecrowz
Posted in: Music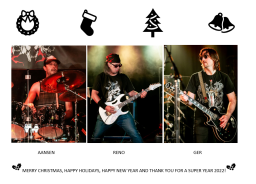 Hi all,

As the year comes to a close, the band would like to send out a big THANK YOU to all of who listened to us on streaming platforms, came to or promoted our shows and/or bought our Merch. As well, to a few whom made 2022 a great year…

Rainbow Bistro
Video City TV LLC
Denis Lavigne at Vigne Management
Medhi and Co. at Mavericks
Laughing in Slow Motion
LuckyLuke
Hard As A Rock
Eve Of Uprise
Otterslide
Darcy Munro
Jon and Co. at LIVE on Elgin
Innerpiece
Fx May Vary
Trenchfoot
Julian Leblanc
Kay Rock
Karolina Dumas
Brad Lake
PandaMonium Promotions
James at Tipping Point
Innuendo
Seven Days Of Fire
Deadbeat Rebels
Wyntr - Hard Rock from Ottawa
Skotti & staff The Brass Monkey
SOCAN Music
Nick Austin Indie Pool

Bryon William Harris at BWH Music Group
Hazel Lynne Dumaran
Peter/Jitka Jam Barn
Sara at Sare's Invasion and Thatmetalstation.com
Ryan at CompiGram
Michael Fisher at #fishmix
Pat Dalton at WNIR Radio

Cheers and see you in 2023!!
Tags