About the song To Sir With Love recorded by The ReWlettes

2020-06-06
By: The ReWlettes
Posted in: Biography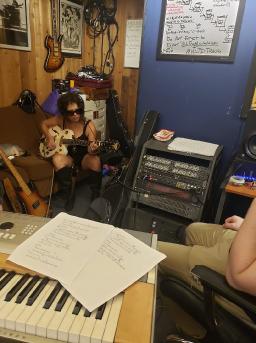 To Sir With Love was originally released in 1967 and was sung by British superstar sensation Lulu
To Sir With Love is the theme song of the 1967 movie of the same name starring screen legend Sidney Poitier
To Sir With Love has been recorded by The ReWlettes as a cover version in August 2019
To Sir With Love was released by Baltimore's Manta Ray Records on May 22, 2020
To Sir With Love by The ReWlettes is considered a modern pop rock interpretation with a Punktry edginess which draws the listener in, and, by the time the song ends, you fall in love with, The ReWlettes!
Based out of New York City, The ReWlettes consist of a blockbuster all female cast of characters!
The ReWlettes entertain through their musical talents, live performance persona, original songs, cover songs and a penchant for bringing meaningful good times to all that listen.
Personnel:
Living Music Legend - ReW StaRR - Lead vocals and Guitar
NYC Music Impresario and Promoter - Anne Husick - Bass Guitar
Critically Acclaimed Mistress of The Ivories - Maya Lo - Keyboards and vocals
Empress of the Back Beat  - Tami Johnson - Drums and Percussion
For more info about The ReWlettes please visit: The ReWlettes on Facebook (link opens in new browser window)
℗ 2020 Manta Ray Records https://mantarayrecords.weebly.com/ (link opens in new browser window)
Released on: 2020-05-22
Producer: Ingvar Jacobson
"To Sir with Love" is the theme from James Clavell's 1967 film To Sir, with Love. The song was performed by Lulu, and written by Don Black and Mark London (husband of Lulu's longtime manager Marion Massey). Mickie Most produced the record, with Mike Leander arranging and conducting. The song reached No. 1 in the United States record charts, and it became the bestselling song of 1967 in the US.
Currently, as of May 2020 The ReWlettes video for To Sir with Love is in production and is being produced by award winning film maker, Christopher Martini Christopher Martini IMDB
Tags