2021-01-14
By: The ReWlettes
Posted in: ReWlettes Band Member Biographies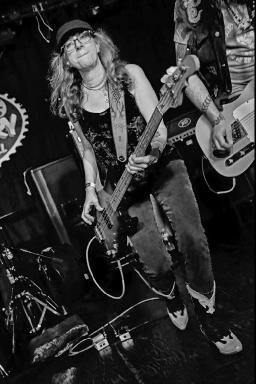 Anne Husick - Bio
Anne Husick has spent the last forty years lending her talent on guitar, bass and vocals to many local New York City bands.
She's toured the United States and Europe with Band of Susans, Ronnie Spector, and Wilson Pickett, and played bass in the off-Broadway and Chicago productions of "Hedwig and the Angry Inch". 
Husick has written songs for City Canyons label artists, including Peter Ulrich, formerly of Dead Can Dance. Two CDs of Husick's own material have been released on Rainbow Quartz Records ("International Sweetheart") and World Wide Vibe Records ("Insomnia").
Additionally, she sang backing vocals on several cuts on Ronnie Spector's "Last of the Rock Stars" album along with Ronnie and Keith Richards.
Husick has appeared on "Late Night with David Letterman", "The Jimmy Fallon Show", PBS's "Doo Wop Spectacular", and the last ever "Jerry Lewis Telethon".
She's recorded with celebrated producers Eddie Kramer and Jack Douglas, as well as appearing in a film by D.A. Pennebaker ("Only The Strong Survive").
For the ten years prior to pandemic lockdown, Husick ran the successful booking agency AHPresents, throwing old school rock 'n' roll parties at Sidewalk Cafe and Otto's Shrunken Head in New York City's East Village.
She also fronted her own bands Granny and EXIT 99 as well as playing in several other local bands including Red Gretchen, The Cynz, Phil Gammage Quartet and The ReWLeTTes.
In keeping with the times, Husick continues to write and record, and participates in a weekly Zoom open mic.
Biography Photo: Alan Rand - Copyright 2018
Tags