Thank you Mixposure and Mixstream

2018-06-05
By: Barefoot Music
Posted in: 10 Years of Mixstream Radio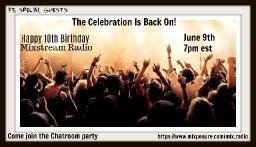 Happy 10 Years Mixstream Radio!!
Celebrating 10 years of streaming live DJ shows is quite a phenomenal tenure. 
**Saturday June 9th we're hosting a special show and we hope you'll join us in chat**
Some personal thoughts I'd like to share:
Last Fall when I learned that the radio side of www.mixposure.com would celebrate a decade of live DJ shows I felt a huge sense of pride for what Dazed, WildCherry,and all of you Mixposure members have succeeded in building together. 
Along with that pride I have a real fondness for the artists and their respective music, then there is my fondness and pride for all the past DJ's, and our current DJ Team; Bubba, TV, Tricia, Larry and TeddZ.
We have a devoted chat room community of participants who often say that we are a family, I agree -
We are definitely a uniquely rare music community!
Between the stellar caliber of music chops, the collective musicianship, the collaborations between artists, and the devoted support of listeners Mix has become a solid music site that remains a fresh and a credible source for anyone involved in music. 
If you are a musician, a songwriter, booking agent, a band manager or someone looking for an alternative to mainstream over commercialized music then Mixposure is where you will find a place to call home. 
After having the great pleasure of bringing Barefoot Rock n Blues to you every Sunday evening last summer I was asked to consider managing the radio station side of Mix, happily I will say with great satisfaction that I've not regretted agreeing to this adventure for one single second. This community, the listeners, the artists; their music, the collaborations between artists, as well as their friendships are a continuous source of personal inspiration, growth and encouragement. I've been involved in some aspect of independent  music since my first job booking local bands for a coffeehouse in the early 70's but never has my sense of commitment and passion for this independent music philosophy been as strong as it is today at Mix. 
I want to Thank you Dazed, WildCherry and all you Mixsters! Congratulations! 
~ Toni 
p. s. I'd like to add that if you are an Independent musician/songwriter of original music and not a Mix member I honestly and respectfully believe you are doing a great disservice to yourself and your music. We should talk. 
Tags