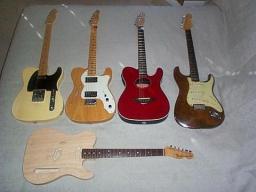 This is a group to show off and discuss your Telecaster guitar. In fact let's open it up to all things Fender related. So join on in!
Farrell
https://www.mixposure.com/farrell-jackson/group/4/show-and-tele-time
The group page picture models and years left to right, all Fenders:
1967 Telecaster Standard
1974 Telecaster Thinline
2000 Telecoustic
1962 Stratocaster
1966 Telecaster Standard - work in progress
Hey...how did that Stratocaster sneak in there? Maybe because she's older, has road smarts and photo bombed the Telecasters, lol!